By Clara |
14
November 2022 |
0
Comments
Standard Infant Cleft Lip and Plate Models for Surgical Suture Training and Patient Education
Medical simulators are effective tools for medical education. They help train students, physicians, and medical staff to develop the necessary skills and techniques before working with patients. Medical simulation is used in all aspects of medical education, such as surgical training, patient education, etc.
The latest medical simulator developed by Pro-Health Product Ltd., the Cleft Lip Simulator, is dedicated to helping accelerate learning in cleft lip and palate reconstructive surgery training. And help patients better understand what their cleft lip or plate looks like and how to better heal it.
We have developed 3 standard cleft lip simulators, also called cleft lip training models because they are mainly used for practicing cleft lip suturing techniques. They simulate 3 common cleft lip types, unilateral cleft lip, bilateral incomplete cleft lip, and bilateral complete cleft lip.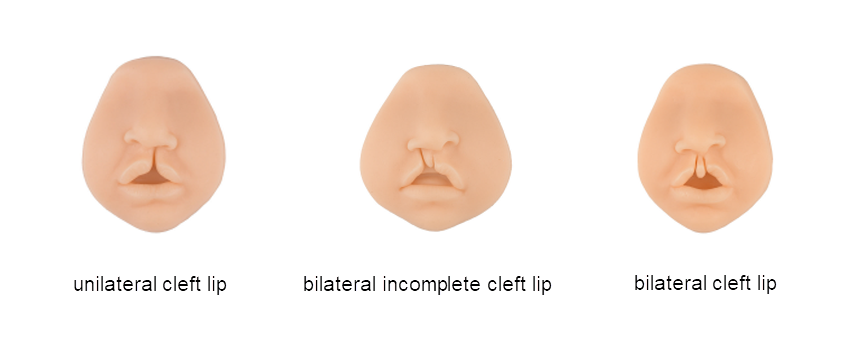 ➤ High Fidelity
Our cleft lip training models are made in 1:1 infant life-size, providing hyper-realistic appearance, skin texture, skin color, and touch for surgical training, leading to safer, higher-quality surgery for every patient every time.
➤ Durability
When it comes to surgical training, the durability of the cleft lip simulator is another factor we need to consider sincerely for users. We choose to cover the lip wound with durable mesh. So when medical students learn to practice suturing cleft lip with it, it won't be easy to rip, even can be used several times.
As of July 2022, Pro-Health Product Ltd. has overcome various R&D and production challenges and is becoming a world-renowned leader in the design and manufacture of simulation training products. Provide OEM/ODM services for various training simulation products. Whether you're a medical student, nurse, medical school, or a company that needs a new potential product to tap into a new market, the cleft lip simulator is a great choice.
Leave a Reply
Your email address will not be published.Required fields are marked. *