By Betty |
18
March 2022 |
0
Comments
What are 5 advantages of breastfeeding
Breastfeeding plays a crucial role in the health, growth and development of babies and has benefits for the mother too. Women may need some help to successfully feed their babies. They need support and reassurance as they learn this skill.
What is so good about breastfeeding?
Breast milk provides all the nutrients that a baby needs for the first six months of life to grow and develop.
Breast milk continues to provide high-quality nutrients and helps protect against infection up to two years of age or more.
Breast milk protects babies from infections and illnesses.
Babies find breast milk easy to digest.
The baby's body uses breast milk efficiently.
Breastfeeding can contribute to birth spacing.
Breastfeeding helps the mother's uterus to contract reducing the risk of bleeding after birth.
Breastfeeding lowers the rate of breast and ovarian cancer in the mother.
Breastfeeding promotes a faster return to mother's pre-pregnancy weight.
Breastfeeding promotes the emotional relationship, or bonding, between mother and infant.
But many people stop to breastfeeding for all kinds of reasons.
A key reason for premature cessation of breastfeeding is inadequate support from healthcare providers. Most physicians and nurses do not feel confident in their ability to support families with breastfeeding initiation or maintenance. Increasing health professional confidence in clinical lactation skills is key to improving maternal and child health outcomes. High-fidelity (realistic) simulators encourage learner engagement, resulting in increased clinical skills competency, confidence, and transfer to patient care. Lactation educators teach with low-fidelity cloth and single breast models. There are no high-fidelity breast simulators for health professional education in clinical lactation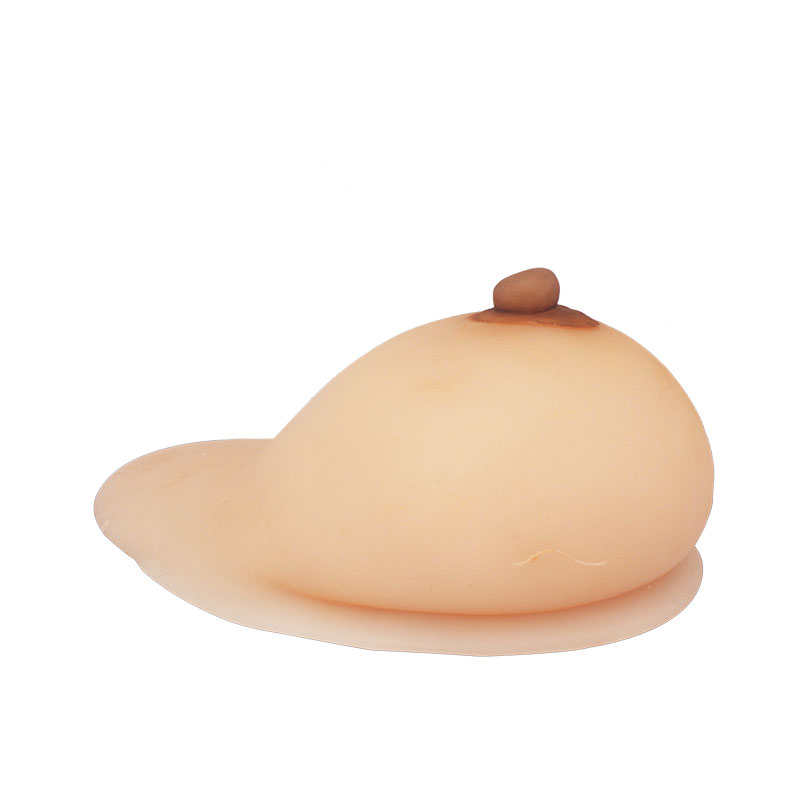 Educators use simulation for learners to engage in maternal-child patient care situations they would otherwise rarely encounter during training to promote technical and non-technical skills development, decrease learner anxiety, and improve patient safety and health outcomes. The World Health Organization strongly recommends the use of "high-fidelity" (realistic) simulation for health professional education because it leads to greater acquisition, retention, and transfer of technical and non-technical skills. Low-fidelity commercially-available or handmade cloth breast models are frequently used in breastfeeding education, but the approach is not standardized and learning and patient outcomes are rarely assessed . We propose that high-fidelity simulation is the ideal learning modality for breastfeeding education for some reasons:
【Premium Material】Breast model is made of good silicone materials, can be used for a long time.
【Soft to Touch】 Breast model is superb fine craftsmanship, it is vivid, quite similar to the real female breast.
【Full-Size Range】Silicone Women Breast Model size is 22x13x10cm.
【Features】Breast Model designed for expectant mother, galactagogue division, science teachers, and other. It is female nursing skills for teaching prolactin massage and breastfeeding.
【Wide applications】Silicone Women Breast Model with a wide range of application, can be used for lactation and nursing training.
Breast model ,these as teaching aids in breastfeeding education and
can help lactation professionals teach, educate and better help breastfeeding families.A perfect tool for midwives, doulas, lactation counselor, IBCLC consultant, childcare assistant or anyone passionate about breastfeeding.
Required clinical rotations in nursing, midwifery, and medical school do not always provide students the opportunity to interact with diverse breastfeeding patients. As a result, most healthcare providers do not have experience identifying or managing common breastfeeding complications. A hands-on workshop with high-fidelity breast simulators depicting diverse nipple-areolar complex anatomy, dermatoses, or breast surgical scars would provide medical, midwifery, and nursing school graduates with a well-rounded education in breast health and lactation.
Some tips to help breastfeed
To help a mother learn how to breastfeed first encourage her to get herself into a comfortable position. Show her how to hold the baby straight, with both the baby's head and body turned to face her breast and with the baby's nose opposite her nipple. She should hold the baby close supporting the whole body, not just the neck and shoulders. Refer to breastfeeding aids and materials to help you become more familiar with correct positioning and attachment.
Leave a Reply
Your email address will not be published.Required fields are marked. *